Description:


45°DIAMOND TYPE FLARING & BURNISHIG TOOL CT-500A

For 3/16″、1/4″、5/16″、3/8″、1/2″ &5/8″O.D.

Single opening finished diamond cone rolls out and burnished perfect 45°accurate and regular flare without effort,
preventing tube slippage downward therefore ,

the flare face will be smooth, uniform without scratching.

The bar is powder metallurgy material.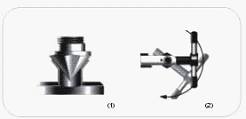 1. Flares rolled out above die bar by super-smooth faceted cone. Makes stronger flares.
2. Unique detention mechanism for rapid engagement and release of die blocks.